The brand evolution
A style evolution during time: from early Fifties the AURORA style has changed and evolved like our logo.
Today, the successful Aurora range of products has typical connotations such as "STYLED & MADE IN ITALY" in two stylistic areas: "MODERN DESIGN" and "MODERN COUNTRY".
1950-1959

1960-1969

1970-1971

1972-1980

1981-1985

1986-1994

1995-2002

2003-2008

2009

2017

On the occasion of the 60 th year, the company invited customers to participate in the fair CERSAIE in Bologna during which they presented two models of the Country Kitchen line, IRIS and ESTER, still much appreciated today for their structural features.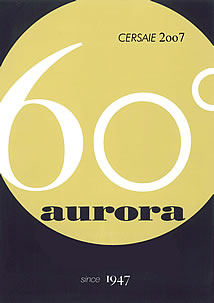 See our latest collections:
Dogu
Essence
Rosemary